AVL Hospitality Service Solutions
If you are in the hospitality industry and are in need of audio, video, or lighting solutions that will make your space pop, look no further than 4Stage. As the Dallas-Fort Worth area's premier AVL solutions company, we are dedicated to ensuring each and every one of our clients find the services they need for their specific project or space. 4Stage has 20 years of combined experience, which means we have extensive experience working with a wide range of clients throughout the hospitality industry. We understand how important it is for you to work with a company that not only understands the ins and outs of the industry, but will go above and beyond to ensure the finished project is one you are proud of.
In the hospitality industry, there are many different areas that audio, video, or lighting solutions can help enhance and your business to the next level. All of our AVL services are professional and user-friendly, ensuring you aren't left with something that is too confusing or complex. For example, we rely on state-of-the-art technology and have the support of more than 12 audio brands recognized worldwide in order to meet your demands. In addition to high quality audio solutions, we offer the following important services tailored to the hospitality industry:
Video network design
Video source installation
Pro video training
Professional lighting (moving lights)
Architectural accent lighting
Custom furniture/stage design
Custom platform design
Trade show booth design
Accentuating lighting
Please keep in mind this is just a brief overview of some of the AVL service solutions we offer for our hospitality industry clients. We understand and respect that all of our client's needs differ and require different AVL solutions. For this reason, we believe in sitting down with all potential clients for an in-depth consultation prior to moving forward. This allows us to get to know you and your vision better, and vice versa.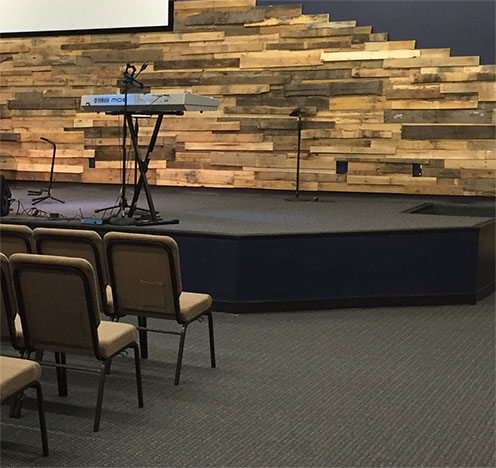 The 4Stage Difference
At 4Stage, we place a great deal of importance on communication and ensuring we understand who our clients are and what their mission is. Our highly experienced team of consultants, technicians, and AVL experts will go above and beyond to ensure they know what you are looking for and hoping. Whether you are in need of an audio, video, and lighting makeover, or have one specific area that requires attention, we are here to help. As DFW's leading AVL company, we are dedicated to your satisfaction.
If you would like to learn more about the various AVL services we offer clients in the hospitality industry, please do not hesitate to contact us. We would love to schedule a consultation with you today and get to know you, your company, and your AVL needs. Please give us a call today – we look forward to hearing from you and learning more about how we can meet all your AVL needs.