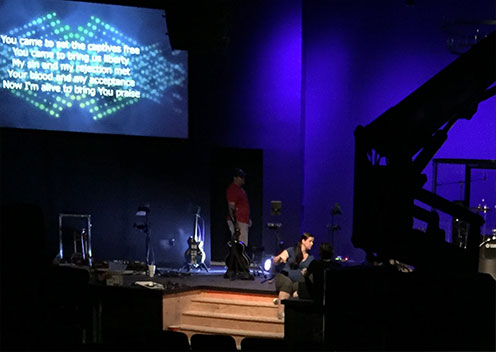 AVL Services for Churches and Other Houses of Worship
We pride ourselves on providing churches and other houses of worship with high quality AVL services that are both elegant and eye-catching. The 4Stage team has more than 13 years of experience in audio, video, and lighting design for churches of all different sizes. We have an in-depth understanding of what houses of worship are looking for when it comes to creating and inviting and warm environment for churchgoers. Our dedicated team of AVL professionals are known for their strong communication skills and ability to transform a space into an exciting atmosphere for worship.
We believe in using the most professional and user-friendly equipment for audio, video, and lighting solutions. From the main PA setup to speaker installation, video network design, and architectural accent lighting, we can transform your house of worship into a stunning place that resonates with devotees. Through innovative, cutting-edge design and state-of-the-art technology, we are worship leader's go-to AVL company in the Dallas-Fort Worth area. Whatever your end goal or vision is, we are dedicated to helping you attain it.
About Our Transformative Services for Churches
At 4Stage, we pride ourselves on working with a wide range of clients and providing them with AVL services that go above and beyond. We are dedicated to ensuring each and every project is unique and centered around our clients' specific mission and style. As a Dallas-Fort Worth AVL company, we carry out church AVL design services to houses of worship throughout the area.
We believe in doing everything we can to understand our clients' vision, AVL needs, and goals, which is why we always start a project with an in-depth consultation. Our strong communication skills and awesome customer service are just two reasons why we are considered DFW's premier AVL company for many years. By taking the time to meet with our church clients and discuss their mission, we are better prepared to engineer a project that meets each and every need. Our projects start from the ground up, with the client always remaining in the loop. By taking the time to have an extensive conversation with our house of worship clients, we will have a deeper understanding of your vision, mission, and practical requirements. We believe this helps us find a balance between ensuring all your needs are met and our AVL designs are both unique and functional.
WHY CHOOSE 4Stage
To us, each and every client and project is a new and fun experience that challenges us and allows us to utilize various AVL solutions. The church projects we perform are driven by what is appropriate for the client and the space we are working with, which is something we feel very strongly about. We provide all of our church clients with in-depth information that helps guide the intent of the design, regardless of what your needs are. Our well-crafted team of consultants, designers, production assistants, and AVL experts work tirelessly to make sure the design is both conceptualized and implemented as accurately as possible.
Whether you are in need of audio, video, or lighting solutions – or all three – for your DFW house of worship, give 4Stage a call today so we can get started. As AVL industry leading experts, we are here to answer any questions you may have and help you better understand your options.