AVL for Commercial Areas
4Stage is proud to be the Dallas-Fort Worth area's premier AVL company for commercial areas. Established nearly 15 years ago, we have worked hard to build a strong client base over the years across a wide range of industries. By providing AVL solutions for commercial clients, we are able to help transform these industrial spaces into stunning areas that hit every mark. Whether you are throwing an event or have a commercial space that is in need of an AVL makeover, look no further than 4Stage. We have a broad range of solutions available to commercial clients, including:
Audio
Visual
Lighting
3D Designs
Stage Scenics
Trade Show Booths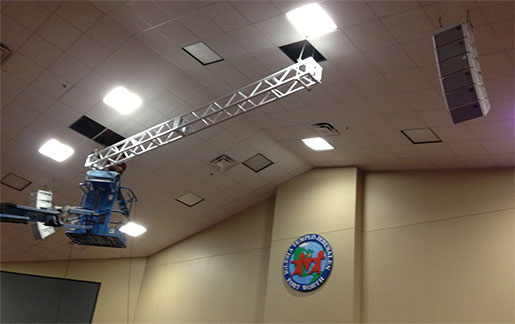 We understand each client's needs are different, which is why we strive to provide such a broad range of AVL solutions. When you choose 4Stage, you will have peace of mind that you are working with a company that not only puts the client first, but is committed to going above and beyond throughout each and every stage of the project. We believe in building a project from the ground up, which is why we start with an in-depth consultation with the client before anything else. By taking the time to not only understand our commercial clients and their background, we will be better prepared to come up with a design and installation concept that is in line with their mission.
The 4Stage Difference – You Can Count On Us
4Stage provides AVL design for commercial clients in Dallas, Fort Worth, Irving, and the surrounding areas. Our experienced team of consultants, designers, and AVL technicians take a unified approach to each project to ensure nothing is missed and all elements of our systems are cohesive. Unlike other commercial AVL companies, we provide complete turnkey service and focus on each and every element of the design project. Whether you are just in need of audio services or are looking for 3D design, lighting, and video solutions for your commercial area, let 4Stage help. We believe in personalizing each and every project we take on, which means you won't have to worry about copycat services.
From start to finish, you will work alongside a team of highly trained and skilled technical and visual designers who have years of experience working with commercial clients. We rely on state-of-the-art technology and communication to ensure our clients are satisfied throughout each and every step of the process. Communication and client satisfaction is a top priority for us, something that can be seen through our outstanding customer reviews.
Whether you are in need of trade show booth design, accentuating lighting, audio setup, speaker installation, 3D conceptual design, custom furniture, commercial grade lighting, schematic design, or video network design, we have you covered. We understand you have a choice when it comes to which DFW AVL company you choose, and we would be honored to be your go-to. To learn more about our AVL services for commercial areas or to schedule a consultation, please do not hesitate to contact us today.