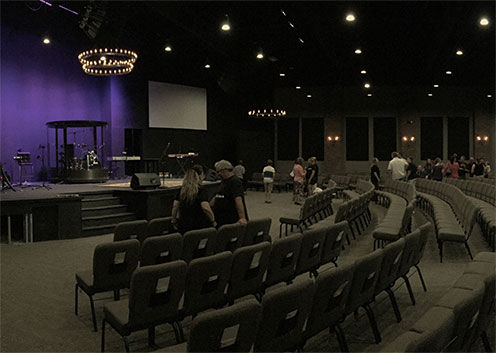 Our AVL Services
4Stage is the leading design firm offering audio, video, and lighting solutions to clients across a wide range of industries. Through our commitment to providing each client with a personalized experience, we take a collaborative, well planned approach to every single project. We understand that your needs may be different than our other clients', which is why we take the time to get to know you and understand your vision. Our cutting-edge audio, video, and lighting solutions aims to improve your space and make things just a little bit easier on you. We strive to not only understand the goals of your project, but ensure we are on the same page regarding budget, technical, and engineering requirements.
When it comes to our specific AVL services, we have worked hard to expand our reach and ensure we have only the best specialists on our team. This allows us to offer customized solutions that are both within your budget and high performing. We differ from our competitors in that all of our services are provided in house – meaning we do not use sub-contractors like many other AVL companies. Each and every project is given full attention here at 4Stage meaning, we take the time to understand you and your AVL needs.
About Our Services
We are considered a premier AVL company in the Dallas-Fort Worth area for numerous reasons, including the fact that we provide complete turnkey audio, video, and lighting design solutions. We are equipped to take on projects of all different scales and in various settings, from school auditoriums, commercial buildings, and corporate settings to mega churches. Whether you are in need of a simple upgrade of your audio system, or are in the market for a more in-depth, comprehensive installation, look no further than 4Stage.
With that in mind, here is a look at the various AVL services we provide:
Audio System/ Network Design
Main PA Setup
Speakers Installation
Smaart Acoustics diagnosis/treatment
Audio Console and Stage Box (Analog/Digital)  
Audio Digital Distribution thru multiple venues 
Multitrack Recording setup
Podcast and Audio production
Surround 5.1/.2 System setup for Theaters 
Ambient Sound System for commercial buildings
Sound Proof Chamber installation for Voice Over Recordings
Lighting Plot/Schematic Design
Full DMX Wireless Control Solutions
DMX Patching/Addressing
Professional Lighting (Moving Lights) Installation/Programing
Pro Lighting Controllers Installation/Programing/Certified Training
Architectural Accent Lighting
Commercial Grade Lighting
Outdoor IP84 Rated lighting fixtures installation/programing
Pendant Light Fixtures with Full RGBAW
Theatrical/Television Lighting 
Video Wall panel installation/Setup/Mapping
Video Network Design
Pro Video Installation/Setup/Training
Video Source Installation (Video Projector/HD TV Monitor)
Video Booth Design/Patch/Routing setup
Video Broadcast Solutions
Multiple Location Video stream
Conceptual Design
Lighting Balance
3D Multiple Angles Presentation
Site Visit and Measurements
Custom Furniture/Stage Design
Custom Platform Design
Standard Size Platform for Choir Risers/Camera Risers
Scenic Walls/Columns for Event Decorations
Custom Size Steps
Custom Lobby and Reception
Trade Show Booth Design
Booth Technology Package
Video Source 
Accentuating Lighting
Audio,Video & Lighting Setup